HALTON HILLS, ON – On November 3, Lily Thai Cuisine, a beloved culinary gem in Georgetown, was a successful recipient of the Façade Improvement Grant, within the Town's Community Improvement Plan, to undertake a transformative enhancement of their building façade. The grant, totaling $15,961.25, was allocated towards a series of upgrades aimed at revitalizing the exterior of the building and protecting its heritage assets.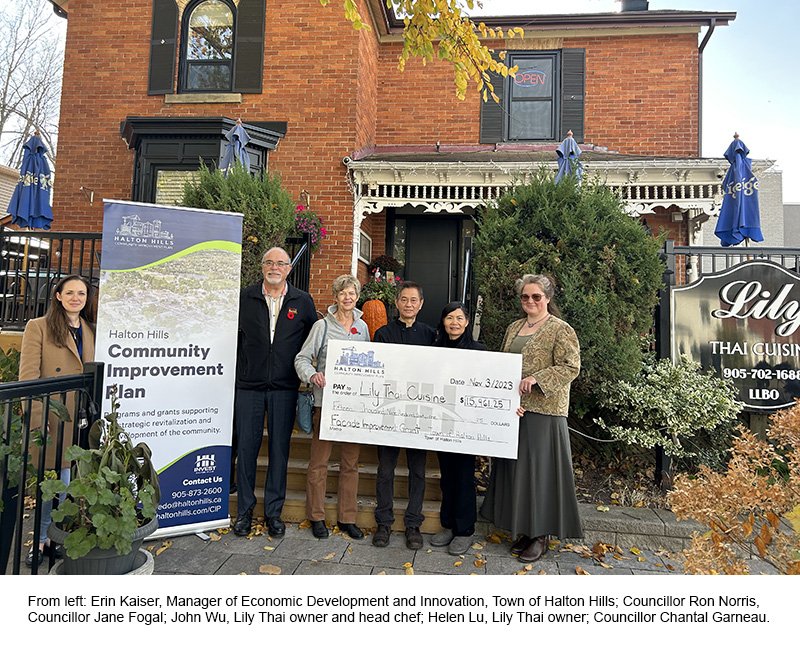 "The process was very smooth, and I enjoyed how everyone was very responsive and professional when asking for help and guidance through this all," said Lily Thai Cuisine owner Helen Lu when asked about the application process with the Town of Halton Hills. "We really appreciate being a part of the community and having support from the Town to help maintain our property."
Regional and local Councillor Jane Fogal along with Ward 3 Councillors Chantal Garneau and Ron Norris, joined staff from the Town's Economic Department & Innovation Division, to present the $15,961.25 cheque to Lily Thai Cuisine. The community grant facilitated the replacement of the front door, repainting of the front window, replacement of the front entrance ceiling, and essential repairs to the building's bricks. Additionally, the grant enabled the replacement and repainting of the patio deck, resulting in a welcoming and aesthetically pleasing environment for Lily Thai Cuisine's valued patrons.
"I am delighted that we (the Town) are supporting local businesses in this manner, and I congratulate Lily Thai on their investment," said Councillor Jane Fogal. "Façade improvements make such an impact and businesses who utilize the CIP grants are truly demonstrating a commitment to our community."
The Community Improvement Plan offers grants and loans to eligible businesses and organizations, encouraging revitalization, attracting private sector investment, expediting redevelopment of underutilized properties, and bolstering local job opportunities.
The Town of Halton Hills has a new suite of programs under the Community Improvement Plan. To learn more, visit investhaltonhills.com/CIP

About The Town of Halton Hills
The Town of Halton Hills, with a population of approximately 60,000, consists of two urban centres, Georgetown and Acton, the Halton Hills Premier Gateway employment area, three hamlets – Glen Williams, Stewarttown and Norval – and several smaller settlements. Halton Hills has long been recognized for its natural beauty, active agricultural community, high quality of life and proximity to major centres, including Brampton, Mississauga and Toronto. The Town is ranked as one of the top small communities in Canada by a national magazine.
Visit the Town's website

- 30 -