HALTON HILLS, ON – On Tuesday, Mayor Bonnette and Ward 1 Councillors presented Acton Discount with a cheque for $8,762 from the Community Improvement Program (CIP) Façade Improvement Grant Program to support renovations to their storefront at 52 Mill Street East in Acton.
SangWon Bak's family has owned Acton Discount since 2004. When the pandemic hit in 2020 SangWon and his wife pivoted from their careers in downtown Toronto and took over the business. They joined the Acton BIA committee and wanted to focus on improving the store's features to enhance customer experience and contribute to the overall refurbishment of downtown Acton.
"Working with Allison and her team in Economic Development made the whole process incredibly smooth and simple. We are just extremely grateful that there's a program such as this that allows us to help beautify our business."
Mayor Bonnette and Ward 1 Councillors were pleased to present Acton Discount with the cheque which supported façade improvements including restoration of the historic brick, fresh paint, and a new sign.
"We are delighted to be supporting façade improvements to so many local businesses in downtown Acton," said Mayor Rick Bonnette. "These collective efforts truly help to improve the overall experience for visitors."
The CIP provides incentives to eligible businesses and organizations by providing grants and loan programs to encourage revitalization, attract additional private sector investment, fast-track the redevelopment of underutilized properties and support local jobs.
The Town of Halton Hills recently launched a new suite of programs under the Community Improvement Plan. To learn more, visit investhaltonhills.com/CIP.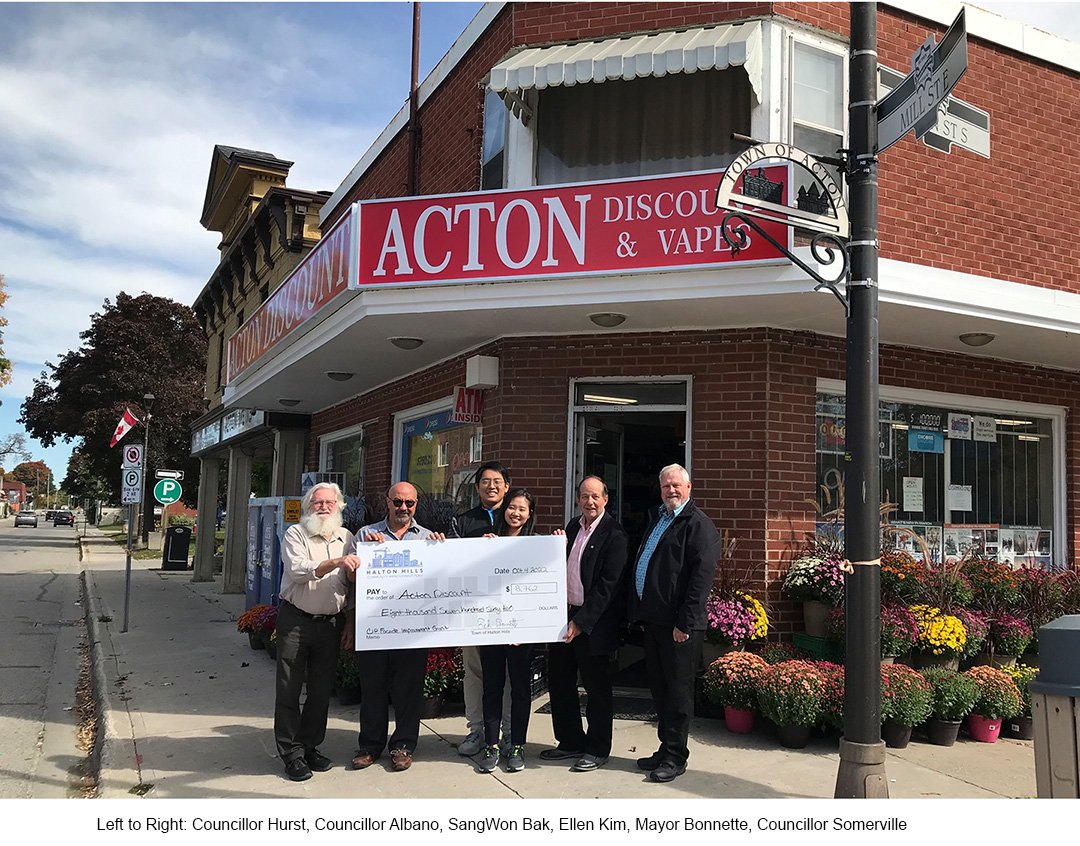 About the Town of Halton Hills
The Town of Halton Hills, with a population of approximately 60,000, consists of two urban centres, Georgetown and Acton, the Halton Hills Premier Gateway employment area, three hamlets – Glen Williams, Stewarttown and Norval – and several smaller settlements. Halton Hills has long been recognized for its natural beauty, active agricultural community, high quality of life and proximity to major centres, including Brampton, Mississauga and Toronto. The Town is ranked as one of the top small communities in Canada by a national magazine.
Visit the Town's website